Behang /
Behang The Royal Collection of Fabrics and Wallpapers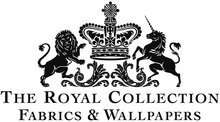 Behang The Royal Collection of Fabrics and Wallpapers - Buckingham
'The Royal Collection of Fabrics and Wallpapers' is een behangcollectie geïnspireerd op de prachtige rijk gedecoreerde interieurs van het Britse Koninklijk Huis. Een samenwerking waarbij het vermaarde Engelse behang en stoffen huis Designers Guild betrokken is. Zo kreeg het creatieve team van Designers Guild toegang tot o.a. Buckingham Palace, Windsor Castle and St James's Palace.

De collectie Buckingham van The Royal Collection verkent de schilderijen, het meubilair en andere kunstvormen uit de 16e en 17e eeuw, welke een enorme bron van inspiratie vormt.

Het klassieke behang en de bijpassende stoffen werken zeer inspireerd. Hebben een koninklijk randje en laten zich goed toepassen in eigentijds wonen.

De designs uit de collectie Buckingham zijn: Cloth of Gold, Great Park View, Royal Promenade en Buckingham House.


Bekijken of bestellen
U kunt bij ons terecht voor zowel het behang als de stoffen uit deze collectie. Vraag vrijblijvend naar de mogelijkheden.
...
Behang The Royal Collection of Fabrics and Wallpapers ontdekt u hier.