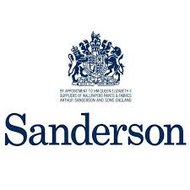 Sanderson Caverley Behang
Sanderson Caverley behang collectie is al een wat oudere collectie van Sanderson behang. Hou er rekening mee dat sommige behangen om die reden mogelijk niet meer te verkrijgen zijn.
...
Caverley Sanderson Behang Collectie

Continuing the theme of timeless classics, 'Sanderson Caverley Papers' is a collection of nine wallpapers that complement the printed fabrics. 'Palampore', 'Porcelain Garden', 'Adele', 'Mauritius' and 'Aesop's Fables' are all gravure printed whilst 'Midsummer Rose' is surface printed. These six designs are all taken directly from the printed designs, in addition to which there are three further co-ordinating wallpapers.
Caverley Sanderson Behang ontdekt u hier.