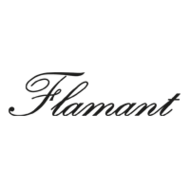 Flamant Suite III (3) Behang ARTE - Velvet

Flamant Suite III Behang vindt u vanzelfsprekend hier. Want als Arte dealer kunt u bij ons terecht voor de gehele Flamant behang collectie.

Het Flamant bloemen behang Metal Velvet Flower and Lin uit deze collectie combineert mooi met het Flamant streep behang. En met de Flamant Unies, die ook voorzien zijn van de kenmerkende linnen structuur. Maar dan effen van kleur.
...
About ARTE behangpapier Flamant Suite 3


Flamant 'Suite 3 - Velvet' is a flowery collection with a countrified touch. Its sophisticated, original and unique design plays on contrasting materials: flax, velours / velvet, golds and silvers. Its refinement is pushed to the limits. It is enshrined within the tradition of magnificent wallcovering qualities, fruit of the close co-operation between Flamant and Arte.


Flamant Suite III Behang ontdekt u hier online of in onze behangwinkel.