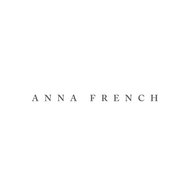 Anna French Behang Collectie


Anna French behang is alles behalve saai en smaakt vaak naar meer. Het bedrijf is in verhouding klein, maar heeft Thibaut naast zich. Een waardevolle samenwerking die al heel wat juweeltjes heeft opgeleverd.

Behalve online kunt u de Anna French behang collectie ook in onze behangwinkel bekijken.
Bold, original design and deep convictions about the strength of family have defined Anna French's life. From the vibrant geometric designs she began producing at art school in the 1960s to the big, brilliant wallpapers that make up her collection,
Throughout the years, the business has evolved, driven by Anna's determination to remain as bold and original as ever, and rejuvenated by the vital contributions of her family. Her son Jonathan is the managing director of Anna French Ltd. and her daughter Sasha is the sales director – and as Anna says, "Their creative energy is an inspiration." In 2007, an agreement was reached for Anna French to team up with Thibaut. This partnership allows Anna French to benefit from the business expertise of the oldest continuously operating wallpaper firm in the U.S., while maintaining the dynamic creativity of a small boutique firm.

Anna French Behang Collecties vindt u hier online en in onze behangwinkel Amsterdam.